Over 5 years ago, I was given a gift.  A gift that changed my life.  A gift that keeps giving to me every day.  Do you know what that gift was?
A pink box filled with purses, totes and accessories. I know you are wondering "how could a box of purses change my life?  Believe me when I tell you that I learned, that this is so much more than just a purse! I came into Thirty One looking for friendship, looking for some extra money and of course, for the discount.  What I gained is more than I ever bargained for… I gained a group of sisters who are there to encourage me when I am down, celebrate me what I WIN and pick me up when I fall.
If you have ever thought about becoming a Thirty-One consultant, now's the time!
What you will get for $99?


In 7 days, you will receive a BIG HOT PINK BOX! In the box will be over $400 worth of products and business supplies (catalogs, order forms, fliers, etc…enough supplies for your first 4 parties).
Some of Thirty One's most popular products are included in the kit. With the products and supplies included in the box, you will have everything you need to get started!  What product are you most excited about?
Now Set Up YOUR LAUNCH PARTY
So what is a launch party?  It is a chance for you to share your NEW passion with friends and family.  At your launch party, you're going to be the hostess AND the consultant!
What Next?

Host your launch party and get PAID. You're basically going to pay yourself back for the kit you purchased! An average launch show is $600.
PLUS: 

You get to earn FOUR of these kits for FREE!!  Start Swell is an incentive for new consultants, giving you a chance to earn even more FREE products and business supplies in your first 4 months. This is extremely attainable for everyone! Thirty-One wants to REWARD you by having a strong start! Hold just ONE average party (or sell $600) during each 30 day period, you will get YOUR choice of these beautiful kits!!
Let's Recap what happens in the FIRST 30 days:
1. A $150 in COMMISSION…which is MORE than the price of the kit. You already made some EXTRA money!
2. You're earning ALL the hostess benefits… which for a $600 show is $100 in FREE product!
3. AND…you're earning your first start swell kit for FREE!!
NOW, there are TWO BRAND NEW INCENTIVES:
#1:  Get your FREE Away We Go Roller: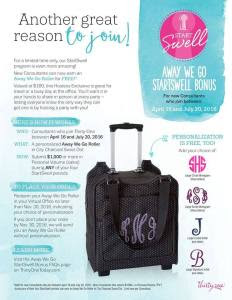 Incentive #2:
Dream rewards! Earn up to $1300 in GIFT CARDS right before Christmas.
Yes, you can get ALL of this for just $99!!!!  Amazing right?  I know you have a million questions, right?
Well, in addition to all of this AWESOME stuff you get from the company, you get ME and my entire upline AND downline.  So you get support from to help you on your journey.
Worried that you won't be able to do it?  To remain active with Thirty-One, consultants only need to submit $200 in sales every rolling three months. A qualifying party for Thirty-One is only $200! Easy Peasy!!! No hidden fees. We get paid by direct deposit on the 10th and 25th of each month.
So, what are you waiting for?  Have a ThirtyOne-derful day!