I have some great memories of camping with my family…. we went cross country in a station wagon with tents, we spent endless weekends hanging out at local campgrounds, and my
grandparents
RV was often my mode of transportation back to college.  RV's have come a long way since I was growing up.  They are now designed with organization in mind. I am always amazed at where there are hidden storage compartments.  Being organized can help you make the most of your space.  You won't have to worry about finding things or battling clutter because everything will have its place.  In most RVs the kitchen and living area are combined and it is the heart of your RV.   It's the place to gather for meals, conversation, games, and entertainment.  Having this area organized makes food preparation easier, and creates a warm and welcoming space for everyone.
Most RVs now come with plenty of cabinets, BUT they usually don't have shelves, just a big open space. Adding an extra shelf or two greatly increases the space and makes it easier to put things away.  A wire shelf gives more room in the kitchen cabinets.  Thirty One's Your Way rectangles help keep cupboards clutter-free and keep things within easy reach.  The clear front allows you to see what is inside too.
Spices add to the flavor of things grilled on the open fire but those glass bottles can quickly get unruly without a system in place.  LEFT: Spice gripper clip strips from Amazon TOP MIDDLE: Ditch the glass bottles all together and store spices in small-labeled ziplock bags.  BOTTOM MIDDLE: How about designing your own magnetic spice rack? An old pie tin for the magnetic spice jars to stick on.  BOTTOM RIGHT: Spices in small drawers. The spices are labeled for easy identification.
I LOVE this inexpensive idea of using desk organizers (or file folder holders) for the closet to keep things organized and in place on the bottom.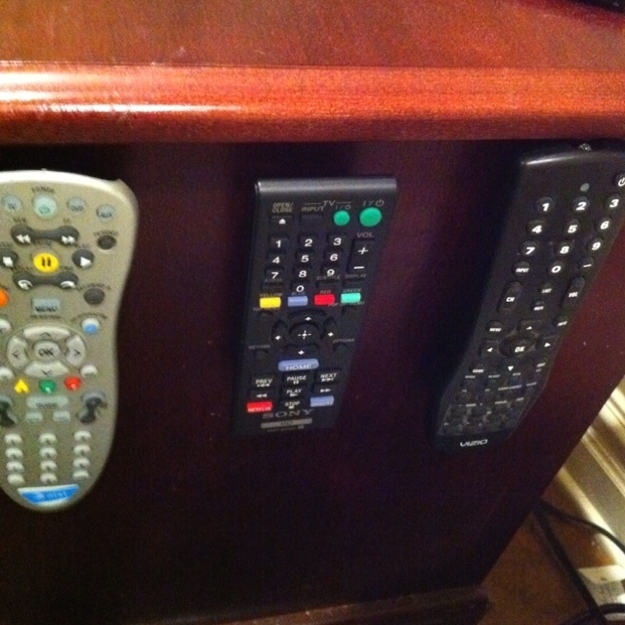 To make the most use of space in the living room, how about some bins to stow things in cabinets, under furniture, and on shelves. Storage bins can be a great place for extra toys, blankets and craft items for those rainy days.
I was always a barefoot or flip flop kind of girl… BUT I was always looking for one of them…instead of fighting the never-ending battle to keep shoes under control, try Thirty One's large utility tote.
A bedside caddy serves as a makeshift nightstand.
Here some tips on keeping clutter to a minimum in small spaces like bathrooms.
Another popular bathroom organizational tool is color-coded towels for each member in the family.